Specials
*50% off Intro*
Save 50% on our Introductory Program! *Limited time offer. Good for new students only.*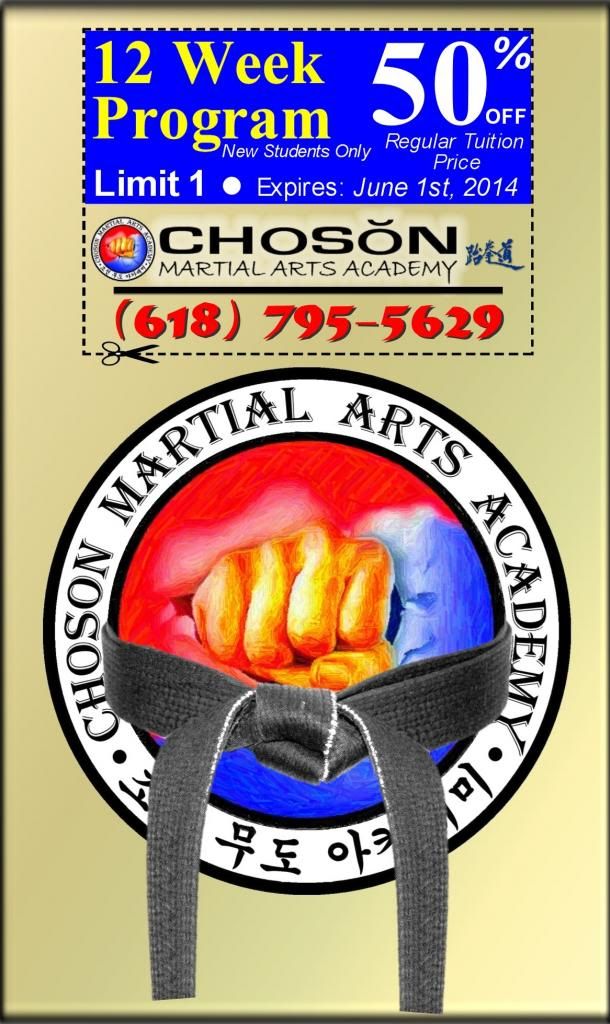 More...
News & Info
*Appointment Necessary!*
If you are interested in learning more about Choson Martial Arts Academy, please call to schedule an appointment. Thank You!
---
July 2014
CMAA News...

7-4-2014...
Happy Independence Day! CLOSED
*No classes available*

7-12-2014...
9am White Belt Orientation
7-18-2014...
Prepare for testing
7-19-2014...Belt Testing
7-20-2014...
3pm Advanced Class
(Red Belt & Higher)
& BB Club Members Only
7-23-2014...
Belt Ceremony
7-27-2014...
3pm Demo Team Practice (Mandatory)

Next Belt Testing: Saturday, July 19th

White to Green-tip
9am - 9:55am

Green to Red-tip
10am - 11:45am

Red to ChoDanBo
NOON - 2pm

Tuition:
Payments are due
on the 1st of every month
*After the 1st, a late fee of $5.oo per day will be added
automatically to the monthly
fee until tuition is paid in full

Absolutely No exceptions





ZUMBA is now offered
at Both Locations.
More...